ShepWave

ShepWave IMPORTANT Updates for Thursday. Key Technicals in Equities, Oil, Gold, and even the VIX!
by ShepWave.com
Posted: 9/20/2017 22:42 EST

The Regular Update for Thursday has been Published. In this update are some new and important analysis notes on the daily time frame for the Major U.S. equity indexes as well as , Crude Oil, GOLD, and the VIX.

The notes here for Gold in particular will answer a lot of your emails. The aggressive BUY signal I issued on July 11 worked out well. You will not want to ignore the Outside Up day we saw in Gold on Wednesday.

The Pre-Market / Intra Day Update for Thursday has also been published.

Log In at www.shepwave.com for Thursday's IMPORTANT ShepWave Updates.
---
HERE IS THE 60 minute chart we published for GLD on July 11th giving the aggressive BUY SIGNAL for GOLD and the metals in general. See the rest of the metal related charts in that update--still available on line for subscribers only.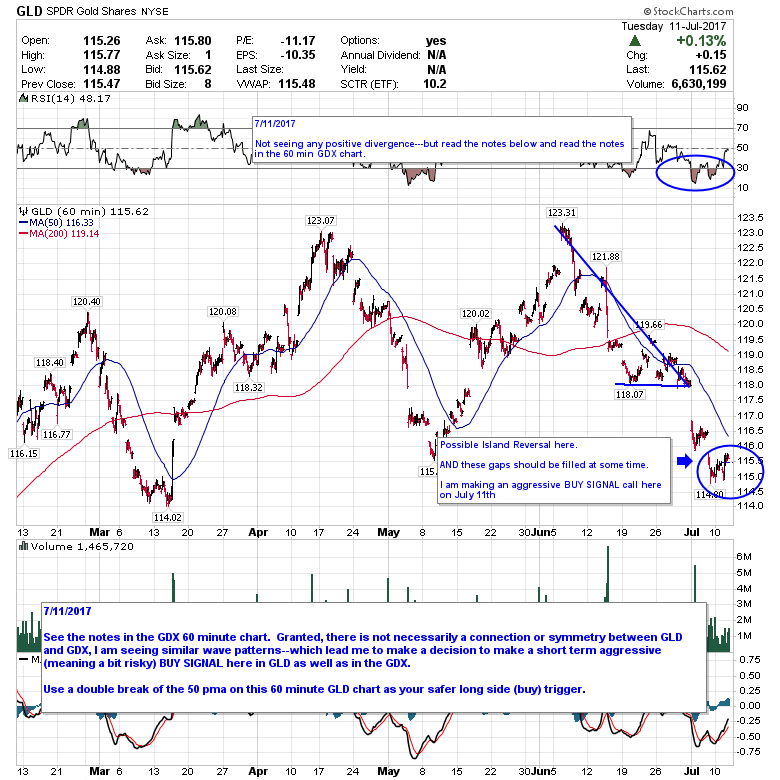 ---
---
Due to the technicals and the fact that ShepWave is at our preferred maximum number of subscribers to maintain our personal service--we will begin raising prices for new subscribers.
$129 One Year ShepWave Subscription Special.
14th Anniversary Special. This
ShepWave $129 One Year Subscription special for our valued customers will end soon. Thanks to all of our regular customers of 14 years. This special offer is being extended to any new subscribers as well, for a short time only. [To current up-to-date subscribers, the one year will automatically be added to your expiration date.]
14 Year Anniversary
---
Reference: Shepwave.com is a technical analysis site for the Major U.S. stock indexes. We use Elliott Wave theory along with our proprietary indicators to give analysis for the Dow Industrials, Nadaq 100 and S&P 500 indexes. We specialize in trading the QQQQ and DIA.